I believe you have untapped genius we can bring up
Download your FREE "How to thrive no matter what" guide to bring forth what you have within you and create sustainable success
I believe the times we are living in are not uncertain. They are disruptive. And it's a good thing. Isn't it what we as Business Owners are here to do? Disrupt things that don't work or could work better for the good of our fellow human beings and for the planet.
I believe it's time to disrupt how Businesses have been grown so far. How much longer are we going to accept that 90% rate of Businesses failing? How much longer are we going to accept the constant levels of stress, worries and burnout to grow our Businesses? I believe none of that is acceptable anymore. Because there are far better and more organic ways to grow your Business that I've been learning and applying since I started my Business in 2005 and with the Business Owners I helped succeed in the last 14 years.
I share some of the wisdom I've gained in the FREE 30 pages "How to thrive no matter what" guide that gives you the steps to reach your goals by increasing your levels of ability and flow to grow your Business organically WITHOUT the stress, the burnout, the roller coaster ride and the sleepless nights. These simple steps and the proven and innovative solutions I provide are designed to connect you with possibilities of growth and revenue streams, that maybe you can't see right now.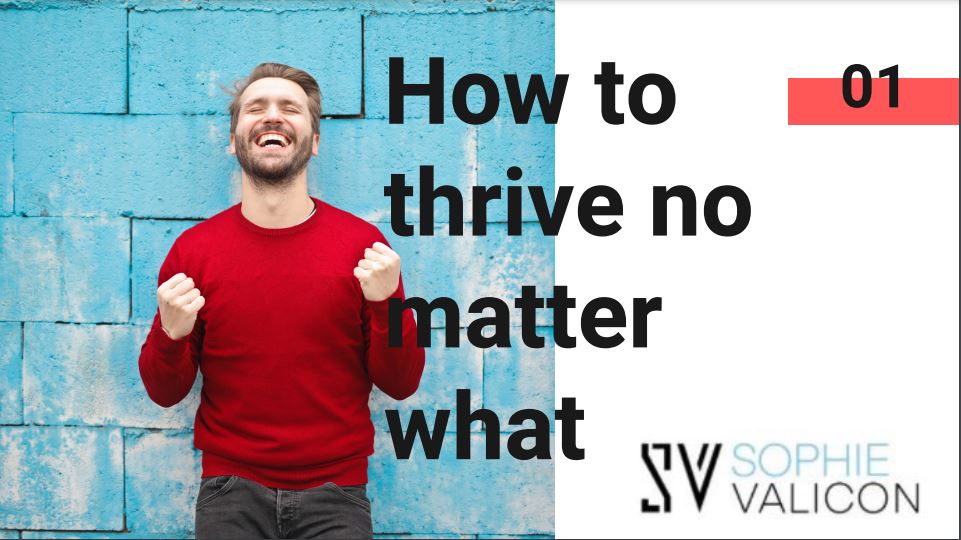 I believe you are meant to succeed but probably not in the ways you think you can. I see countless Business Owners relentlessly seeking the latest marketing and growth hacks when the only hack that works 100% of the time is to bring forth your uniqueness and share it through your Conscious Business. And it is my mission to help you do just that.
Have you ever planned and rehearsed in your head something great for your Business (be it a presentation, a meeting, a conference,… you name it) and the reality of it happening didn't match at all what you had planned? These steps I share in this FREE guide will help you bridge that gap between theory and what you know you are capable of and actually experiencing it.
Have you ever experienced being the right person and the right time? Didn't it feel exhilarating? What if you could bring more of that in your daily life as a Business Owner.
I believe you can thrive no matter what.
Wishing you great success in your business.
Sophie
Privacy Policy: I value your email privacy and will never send spam